The printing industry continues to play a significant economic role in the U.S. and worldwide. Contrary to popular belief, print is here to stay and so are Barry Stanley and Stephen Keith. They are co-owners of Visual Graphics, an established printing company in Greenville, South Carolina.
Barry and Stephen first met in High School and became friends while taking the same graphic communications class together. During their senior year, Stephen continued his studies at Enoree Vocational Center and Barry worked co-op with the Greenville News while receiving credit for his class.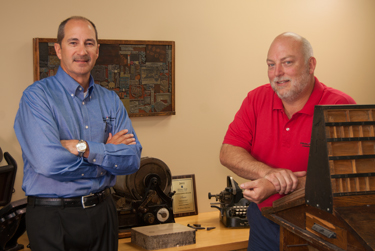 Both of them attended different colleges studying business and continuing to work in the printing industry. In October of 1984 the two of them reconnected, leading to several lunch conversations about the possibility of starting a business together. They purchased a modest printing company with minimal equipment, called Visual Graphics. They closed on that space the following December, kept the name intact and, at twenty-one years of age, opened their doors to the public.
Visual Graphics has grown from a team of two to a family of fourteen employees, many of them having learned at the same school and under the same instructor as Barry and Stephen. They have assembled a team of true craftsmen who put extra effort into getting each job done professionally, skillfully and on time.
When Barry and Stephen were getting their first loan to open Visual Graphics they were told by the bank, "you probably won't be able to make it". They were given a statistic that 90% of all new businesses fail during the first five years. While that would be discouraging and demotivating for many, for Barry and Stephen it was a call to hard work, quality craftsmanship and excellent customer service. In fact, they would pay off their eight year loan in only four years. Now, almost thirty years later, Visual Graphics continues to provide consistent, quality work through experienced craftsmanship.
At Visual Graphics, the proof is in their printing!